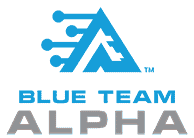 An Elite Cybersecurity Force™
The first steps you take during or after an attack are critical to your survival. If your organization has been the victim of an attack, we can have hands on keyboards within an hour.
We are a 24/7 professional team specializing in cybersecurity incident response and remediation. Our expert team will quickly identify an attack, minimize its effects, contain the damage, and identify the origin of the incident to reduce the risk of future attacks.
Incident response is not a one-size-fits-all service, which is why we have multiple options available, including emergency incident response, incident response retainer blocks, and our incident response subscription service, AlphaDefend™.
But we don't stop there. We also provide assessments for Business Email Compromise (BEC) attacks, vulnerability management, Security Operations Center as a Service (SOCaaS), cyber attack simulation exercises, and vCISO services. We help clients proactively defend against and prepare for an attack. We assess your network, applications, and email system for vulnerabilities, conduct training and simulation exercises to make sure your entire organization knows how to respond to an attack, and provide strategic guidance for your overall cybersecurity program.
The combination of our expert services with the appropriate software and tools enables us to offer comprehensive rescue and protection services when you need it the most.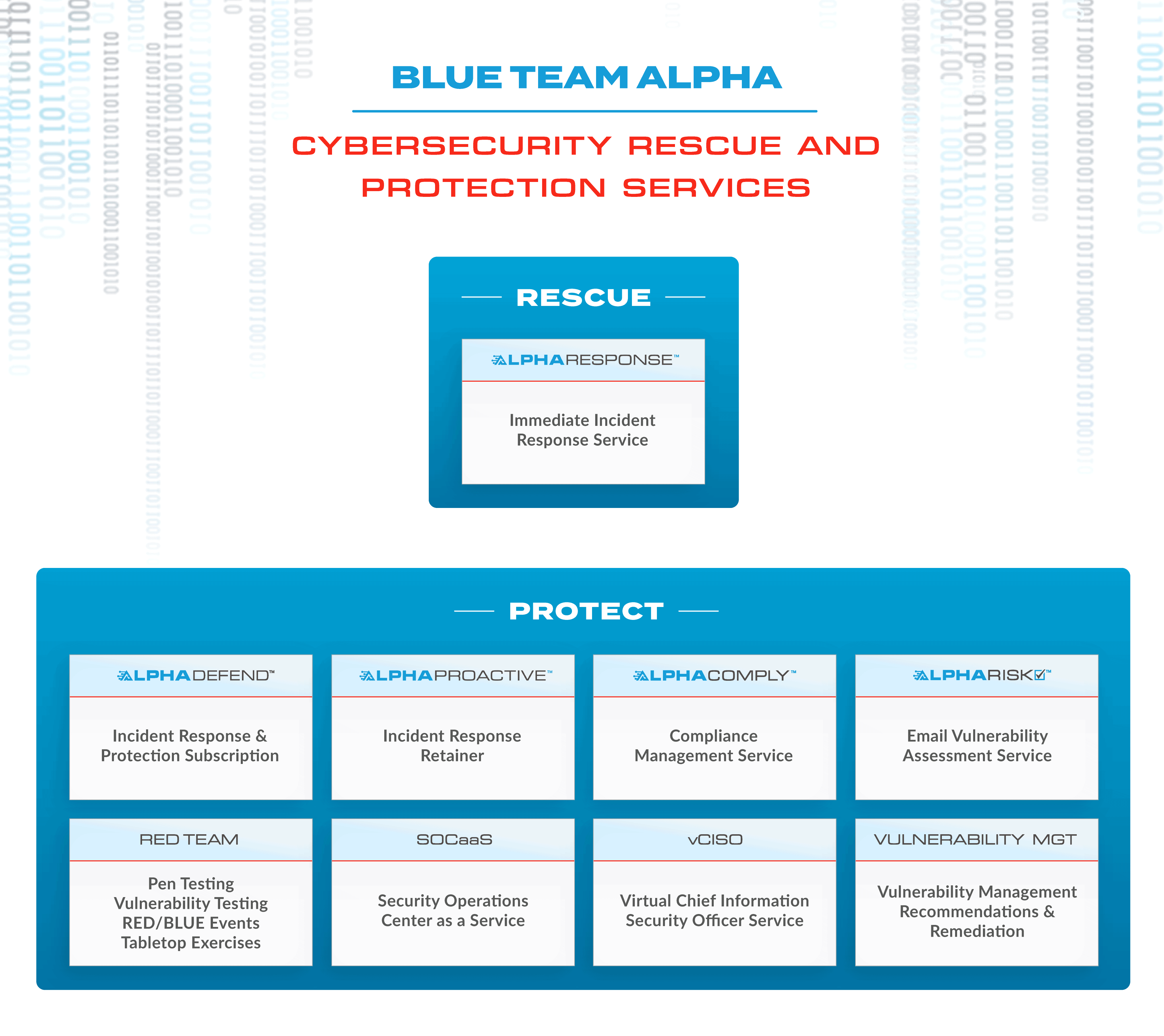 Immediate Attack Incident Response. We rapidly assess the situation and deploy the best countermeasures to minimize the damage. Your own fully certified, full-service, round-the-clock team to get you back up and running, fast. Explore Alpha Response »

Incident Response Program as a Service. Monthly. Reduce cybersecurity breach response time from days to hours and create a proactive cybersecurity program that improves response times while lowering costs. Includes IR policy creation, an annual tabletop exercise, and log review to minimize time to respond to incidents. Explore Alpha Defend »

Incident Response Retainer. Receive the same services as you would with Alpha Response, but with the option to purchase incident response services ahead of time. You benefit from a reduced hourly rate and the peace of mind that our team will deploy immediately should an attack occur. Explore Alpha Proactive »

Compliance Management Services. Get a comprehensive and accurate analysis of your current compliance status for a fraction of what you would pay for a consulting assessment, using a tool we have mastered. Our team partners with you to achieve your compliance goals rapidly, saving you time and money while improving your compliance percentage. Explore Alpha Comply »

Email Vulnerability Assessment Service/Business Email Compromise (BEC) Risk Assessment. We will tell you—quickly and comprehensively—where the threats are and what you can do about them. This is a faster and less expensive solution when a full assessment isn't required or you want to address BEC specifically. Work can typically be completed in less than 2 weeks and requires less than 2 hours of your team's time. We will identify your weaknesses and tell you how to fix them. We provide real, actionable next steps so you can fill security gaps. Explore Alpha Risk Check »
Red Team Services
Discover how vulnerable you are to an attack. Red Team testing services include vulnerability testing, penetration testing, RED/BLUE events, and tabletop exercises. We work closely with your IT team to determine how vulnerable your networks and applications are to a cyber attack and how prepared you are to defend against an attack.
SOCaaS
Security Operations Center as a Service. Take a proactive approach to cybersecurity with SOCaaS without having to hire additional in-house security experts. Our team will monitor your information systems, investigate abnormal behaviors, and remediate issues that arise. Explore SOCaaS »
vCISO
Virtual Chief Information Security Officer. Proper cybersecurity requires more than the implementation of security tools and techniques. A vCISO brings the business acumen and expertise to take a strategic approach to cybersecurity. We will work closely with your organization to craft and execute an effective and comprehensive cybersecurity strategy and policy. Explore vCISO »
Vulnerability Management
It's not enough to run vulnerability scans across your network and applications. Through our vulnerability management services, you can track progress and trend analysis on vulnerability remediation over time, to see how your organization is performing. We also make recommendations to clients around remediation and can even oversee the remediation process itself. Explore Vulnerability Management »
Contact us today to find out how Blue Team Alpha's services can benefit your company and keep your assets secure.