Partnership Opportunities
We are always looking for new partners. Find out more about how you can expand your services for your clients through a Blue Team Alpha partnership.
Managed Service Providers
More MSP's are offering security services to their clients, but you need to do it right in order to deliver and avoid liability. Our Managed Service Provider partnerships enable MSPs to offer additional cybersecurity services to your clients without having to add talent or full-time employees. And without the risk of losing client business to a competitor. 
When you partner with Blue Team Alpha for your cybersecurity services, you know you're providing your clients with a reputable team of expert cybersecurity specialists, qualified to deliver a comprehensive and thorough cybersecurity program. 
Alpha Defend – MSP Edition
Managed services employees are typically not trained as certified information security professionals. They are not prepared to handle an incident, but they do know enough to cause additional damage if they try to handle an attack themselves. 
The Managed Service Provider edition of Alpha Defend is a turnkey incident response program for MSPs that want to outsource Indicator of Compromise (IoC) triage. Outsourcing enables MSPs to maintain the client relationship even if you have a shortage of information security experts on staff. Plus, you transfer risk and liability away from your company, while maintaining a competitive advantage.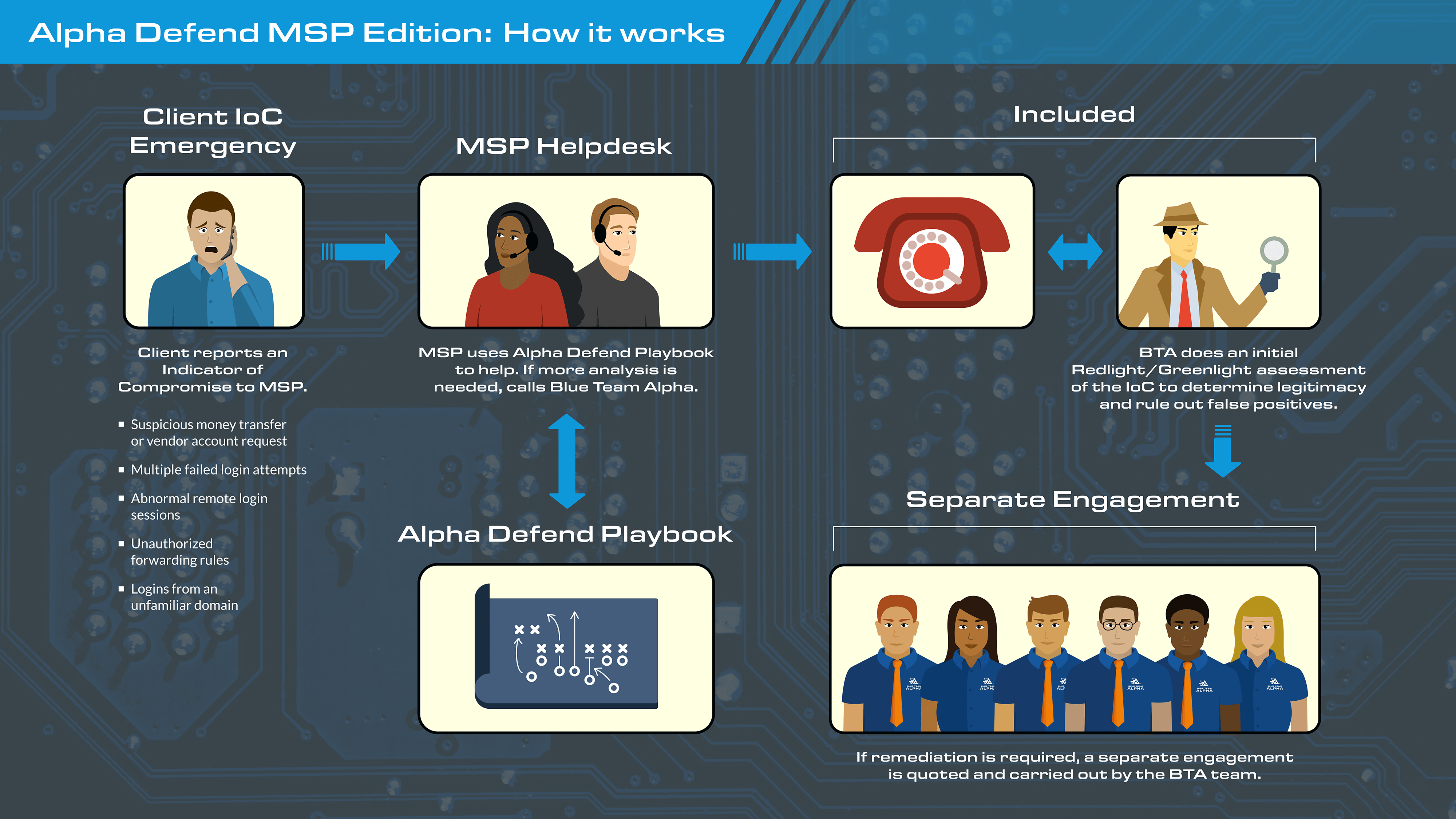 The Alpha Defend Managed Incident Response MSP Edition can be purchased via prepaid Incident Response hours or a monthly subscription plus prepaid hours. 
The MSP Edition is offered in two subscription models:
An annual subscription that is prepaid for the year if you purchase 100 hours.
A monthly subscription if you prepay for 50 hours
Services offered include:
Direct dial to incident response triage service desk
Incident response policy templates for the MSP
Incident response playbook for help desk staff
IR business process integration services (optional add-on)
Staff IoC handling training services (optional add-on)
Assessors
Unlike many other cybersecurity providers, Blue Team Alpha does not offer security assessments. We focus on what we do best—remediation. We are a unique partnership opportunity for assessors, creating a mutually beneficial relationship in the assessment/remediation process. 
Reach out to us today to learn more about partnership opportunities